Tom Turi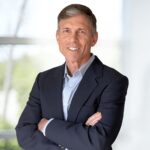 Company: Flagship Biosciences
Job title: CSO
Bio:
Thomas Turi, Ph.D. currently serves as the Chief Scientific Officer for Flagship Biosciences developing and implementing Spatial Biology and Digital Pathology solutions to accelerate drug development programs. He previously served as the Chief Scientific Officer for Nexelis where he assisted in the development of multiple approved and authorized COVID vaccine programs in addition to overseeing R&D activities in biomarkers and preclinical sciences.
Dr. Turi served Vice President Companion Diagnostics for LabCorp Drug Development (formerly Covance Central Laboratory Services). He joined LabCorp in 2008 to establish the Biomarker Center of Excellence and was integral to the acquisition of the Seattle based Genomics Laboratory and the formation of the Discovery and Translational Services business unit. He has led LabCorp Drug Development's expansion in Companion Diagnostics (CDx) and support in excess of fifty CDx programs. Previously, Dr. Turi spent fifteen years at Pfizer, where he held a broad array of scientific leadership positions of increasing responsibility. Most recently he served as the Senior Director of Translational Biomarkers and Mechanistic Biology at Pfizer's laboratories in Groton, Connecticut.
In addition to his current responsibilities, Dr. Turi participates as a mentor for Atlantic Canada's Bioscience Business Incubator Emergence program. He has served on the Board of Trustees for The Life Sciences Foundation and as a member of the Global Health Research Roundtable of the Indiana Clinical and Translational Sciences Institute. He has previously served on the Board of Directors for Caprion Proteomics (CellCarta) and led several external partnerships including those with Rules Based Medicine, Celera, Incyte, and Affymetrix. He has also participated on grant and program project review boards for NASA's Section for Biotechnology and Tissue Engineering.
Dr. Turi received bachelor's degrees in Biochemistry and Chemistry from the University of Illinois at Urbana-Champaign and his doctorate in Molecular Genetics from the University of Cincinnati College of Medicine. He completed postdoctoral training at the Yale University School of Medicine applying molecular genetic techniques to investigate the mechanisms of protein transport.
Seminars:
Improving Clinical Trial Outcomes with Tissue Image Analysis: Case Studies 2:45 pm
Increasing accuracy and yield of existing biomarker assays Investigating spatial and image analysis solutions for patient selection Expanding the use of spatial imaging applications beyond oncologyRead more
day: Day One